Demand for van drivers sky-rocketing
The availability of van drivers simply can't keep up with demand, as the pandemic and our recovering economy drive even more online business.
Wages for professional drivers are rising, with employers competing to secure the numbers they need. The pandemic has also meant there's a huge DVSA testing backlog and Brexit has decreased the number of European drivers willing to work in the UK.
It's a van driver's market.
Mid-sized and large vans still leading vehicle registrations
This year started with a huge climb in the number of mid-sized and large vans (2.5 to 3.5 tonnes) getting on the road, and they've been the leading group for vehicle registrations all year. In June, there was a 21% increase from the same month last year.
With such a shortage of qualified lorry drivers, vans now hold a more important place in the economy than ever.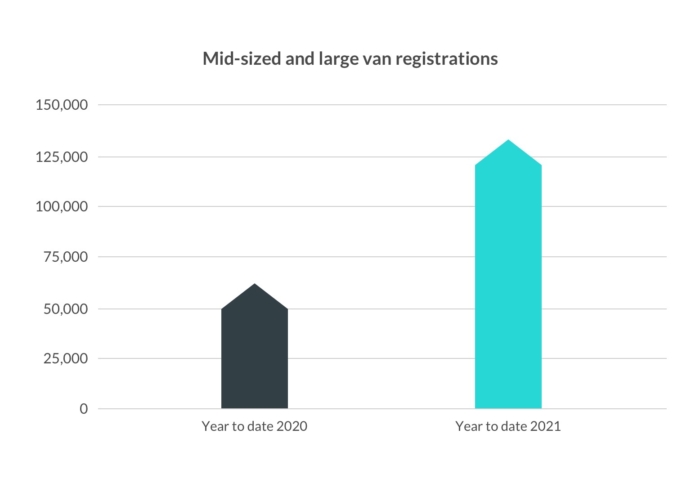 Legal driving hours lengthened for HGVs
The government announced last week that it is relaxing the rules about how long HGV drivers can drive at a time, due to the shortage of drivers.
Usually, lorry drivers are allowed to drive for nine hours with a 45-minute break after four and a half hours. It's now increased to 10 hours, with two 11-hour days permitted per week.
The rules exist to make sure people aren't driving tired, which is extremely dangerous, especially in larger vehicles.
While these changes don't currently affect our van insurance customers, it's a sign of how high demand for professional drivers is that the government is prepared to allow this risk.
Van drivers are in a powerful position
For vans up to 3.5 tonnes, drivers don't need to take a Class 2 test, so access to employment is easier. Demand is high, wages are rising and a lot of people are choosing more flexibility in their work lives.
It's a tricky position for businesses managing supply chains – but a great time to be a van driver.
---