How Ticker new driver insurance can help you
Car insurance can seem like one last tick-box before you get to drive for the first time after passing your test. And in a way it is: it's the final official step after months of frustration and hard work.
But it's also the point at which you're on your own. And that can be a big transition.
Your first car insurance policy
It's all about that quote. We're not silly enough to think you'll come to Ticker just because you like us; it's whether you like your price or not. That said, you need to be a bit fussy with the insurance you choose as a new driver.
No insurer is cheapest for everyone because everyone is different, and sometimes the cheapest quote is…cheap for a reason. Try to balance price with what's covered, how good the breakdown and legal cover extras are, and whether there are restrictions on mileage or when you can drive.
What we can promise is that you'll get our best price first time, no haggling. At renewal, your driving over the year will affect your price. Drive well, and we'll try to keep you with another good quote.
If you do get that great price and insure with Ticker, there are a lot of other ways we'll help you as a new driver.
Ticker new driver insurance:
Drive when you like – no curfew
A box you just stick to your windscreen, with no fitting appointment
Breakdown and legal cover extras from the RAC
Light-touch driving stats so you know how you're doing
No price change during the year because of how you drive
No surprise cancellations
A renewal that reflects how you've driven
Find out more about Ticker new driver insurance.
Help with setting up your new driver insurance
Ticker box insurance is about more than just making sure you're covered. It's also designed to support you in what might be your first insurance policy.
When you're first thinking of getting a quote, we're there in chat support to answer any questions or point you towards helpful FAQs. Any questions about how to fill in your quote details? Just hit the chat button that's always there at the bottom right of your screen.
As well as talking to us in person, you can choose to just type your question into the FAQ search for self-serve help.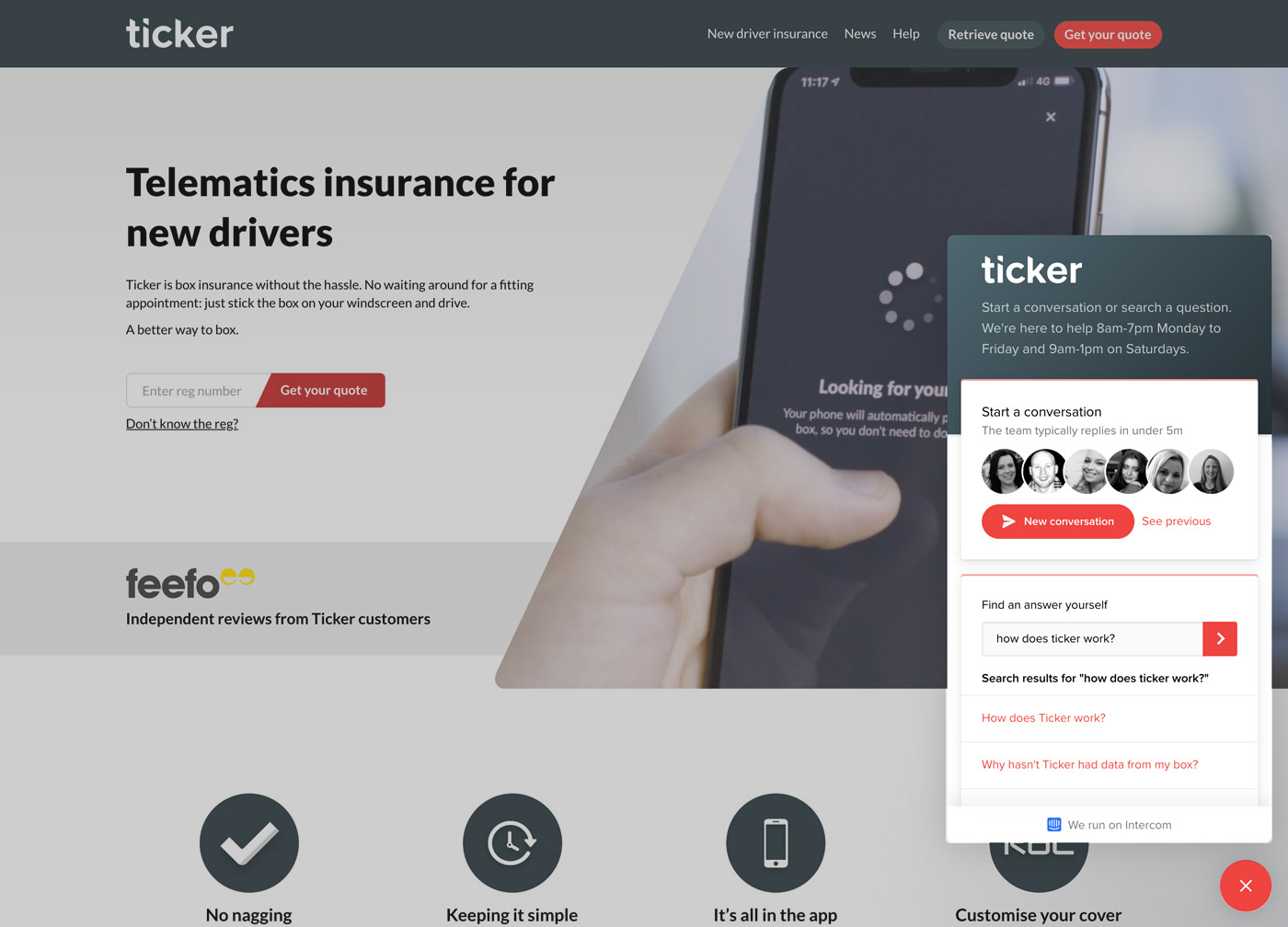 The Ticker app
Support with no need to call us
Our web chat is also in the Ticker app, so you can get in touch with us whenever you need help with your policy or you've got a document you need to send us. No phone calls and no admin fees – just fast support when you need it.
You'll find all our FAQs in the app, too, plus phone and email with one tap.
The dashboard of the Ticker app shows you feedback on your driving, so you know if you're doing OK or you need to pay more attention to your driving.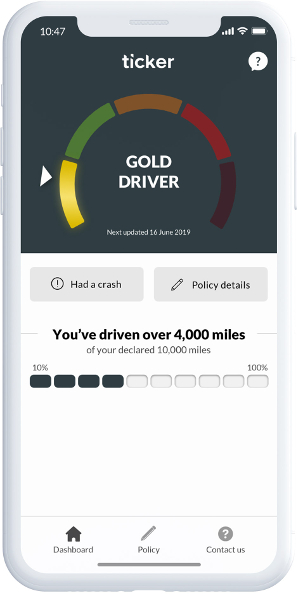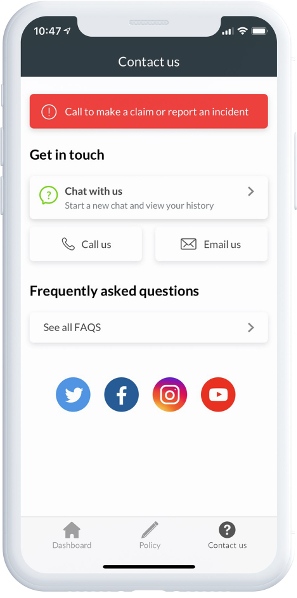 24/7 help if you have a crash
The first time something goes wrong and you find yourself standing at the side of the road looking at a dented bumper, your brain can just freeze.
We put a button right on your Ticker app dashboard that takes all that panic away. Tap Had a crash and you'll get straight through to our 24/7 claims team.
But if anyone's hurt, the most important thing is to call 999 right away.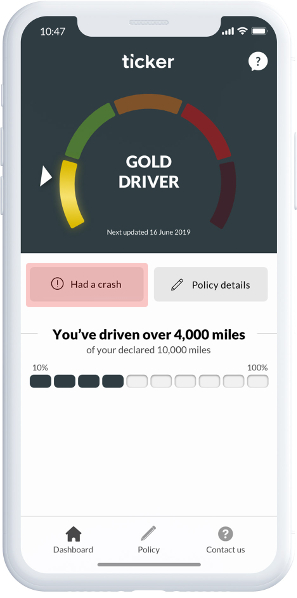 Choosing new driver insurance wisely
There's more to insurance than just the price, but we'll try to give you the price you want AND a bit of extra help along the way. Box insurance is a great way to keep costs low when you're starting out as a new driver – and beyond.
Time to give a box a go: find out more about Ticker new driver insurance.
---