All about the Ticker app
Ticker works with a box and an app. Your Ticker box collects data on your driving, then sends it to your phone when it connects via Bluetooth. Your phone sends the data to us through the Ticker app, with minimal impact on your data plan.
The Ticker app gives you everything to do with your insurance in one place.
What's in the Ticker app?
Your driving stats
We use your driving data to help us work out your renewal price. But it's useful for you to see it too, so you have an idea of how you're driving.
The Dashboard page of your Ticker app has a dial on it that goes from gold to dark red. If you're doing great, you'll be somewhere in the gold. If you get into the red, you're driving too aggressively.
Staying in the red means you probably won't see the benefits of telematics you wanted when you insured with us, and we might eventually ask you to find insurance elsewhere. Good driving influences your renewal, so it's worth playing the game.
Your app dashboard also shows you how many miles you've driven and if you're getting close to your declared mileage.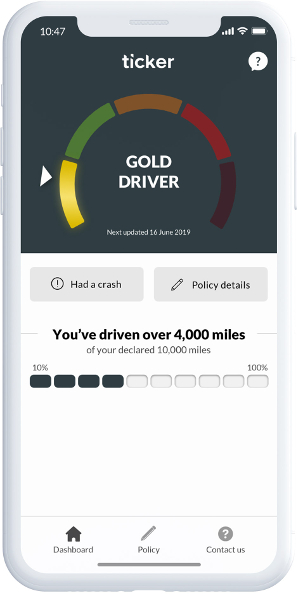 Help after a crash or starting a claim
A very important button on the dashboard of your Ticker app is Had a crash.
If you need immediate help after a crash of other incident, all you need to remember is to tap that button. It'll put you straight through to our claims team, who're there to help you 24/7.
Just remember: if anyone's hurt, your first move is to call 999.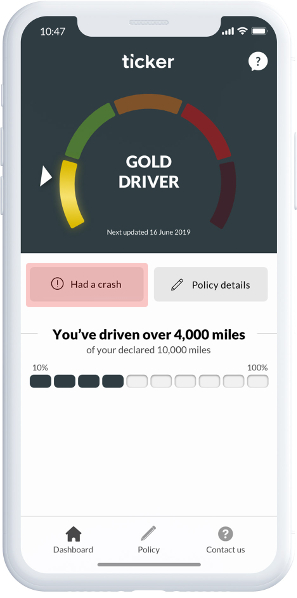 Your policy details
On the Policy tab of the Ticker app, you'll find all the information about your insurance. Your policy number, the start and end dates of your policy year, and all your documents.
We'll be introducing new features all the time, so keep an eye out for helpful tools on this page.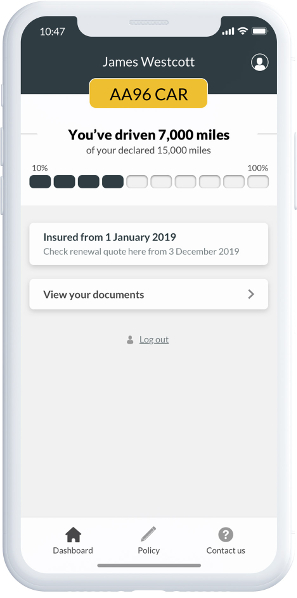 Contact and support
However you'd like to contact us – phone, email or chat – you can reach us with one tap from the Contact us page of the Ticker app. You'll also find all our FAQs so you can browse for help.
Chat support is available from 8am to 7pm Monday to Friday and from 8am to 1pm on Saturdays. You can use chat to send us documents, get help with your policy and make small changes to your insurance with no admin fee and no need to call.
You'll also find a button to put you through to our 24/7 claims team.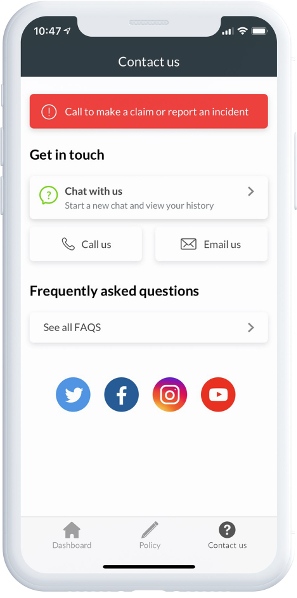 Insurance for today
We're all used to things happening at the tap of a button, so it's time for insurance to ditch the paperwork and phone calls.* Ticker is designed to work with how we live now, and we'll be adding new app features all the time.
Got a suggestion? Start a chat and let us know.
*Don't worry: if you'd prefer paper documents and help over the phone, that's available for you too.
---